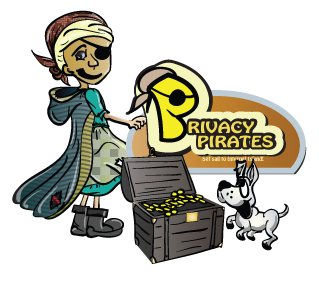 MediaSmart's Privacy Pirates introduces children, ages 7 to 9, to the concept of online privacy and teaches them to distinguish between information that is appropriate to share online and information that is better kept private – and to recognize how this may change in different contexts.
In the game, children assemble a map leading to a pirate treasure (to introduce the idea that personal information has value). As they do this, they are asked a variety of questions about privacy and personal information on the Internet. Correct choices are rewarded with an additional piece of the map.
The game's educational content is spread over two sections. In the Tutorial section, children are given direct instruction to guide them to correct choices. In the Free Play section, which is the largest portion of the game, children encounter similar situations but with less guidance so they can practice the skills they learned in the Tutorial. Both sections provide access to a "mentor" character who gives advice if requested, underlining the key skill of asking a trusted adult for help whenever a child is uncertain about the right choice.
Find out more about Privacy Pirates by visiting MediaSmarts.